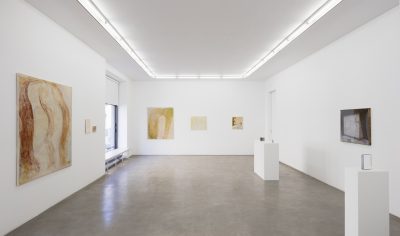 EMERGING 2018 is a continuation of our exhibitions of works by invited young artists held in 2011 and 2013. It will feature paintings, kinetic works and photography by five artists.
Milla Aska (born 1993) follows the method of working simultaneously on several paintings. They are separate works, but what does not fit into one painting can move on to another one. She paints with a thin and dry brush, with the superimposed layers of paint visible though each other. Aska is interested in the manner of viewing paintings: how they are approached and what is found in them. She considers the relationships of colours and how they define each other. Her hazy and slightly melancholy works have a strong presence in their surrounding space.
Essi Kuokkanen (born 1991) observes things taking place around her via bold forms. The figures in her paintings bend and approach but avert their gaze. They contain recognisable elements, a longing for intimacy and introversion but also humour at the same time. Kuokkanen paints her humour with the aid of strange proportions. Dating from 2017, the works in the exhibition represent work by Kuokkanen in figurative painting. Since then she has moved on to more abstract expression.
Antti Kytömäki's (born 1979) kinetic sculptures explore movement taking place without any visible cause. In these works, a by-product of movement is sound made by a chain descending on a piece of aluminium sheeting. The inseparable relationship of movement and sound draws the attention of the viewer. Kytömäki makes use of monotonous movement in which repetition creates variations and the nature of the movement opens up to the viewer upon closer inspection.
Iisa Maaranen (born 1987) carries stones and soil to her studio. She touches their surface and explores their intrinsic nature. With the aid of these explorations of material she paints motifs that are to be found alongside everyday routes. Maaranen discovers the sensitivity of grass. She records situations and calls her paintings points of encounter. For her, working with colour means a study of various emotional states. Things happen in a drawn line even if they are small. The meaning of small things, in particular, gains major dimensions in Maaranen's works.
Juuso Noronkoski (born 1983) constructs relationships of photography, text and space in his works. For him, photography is a medium for exploring spatiality. His photographs become sculptural when they are placed within the bent and curving forms of brass frames. Noronkoski measures time in his works by collecting time-worn material that has drifted from one place to another and has finally been discovered. In these works, time is preserved by being arrested. It begins to inscribe its own momentariness.
Ulla-Maija Pitkänen
read more