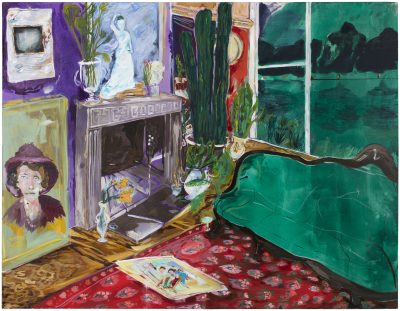 Karoliina Hellberg's (born 1987 in Porvoo) exhibition E at Galerie Anhava presents the latest work of this young, emerging artist. The exhibition features paintings in oils and acrylic alongside works on paper in ink and watercolour. In her works, the familiar objects and places that are in themselves ordinary are replaced by something alien, and seemingly normal things are different in indefinable way. This creates the tension of her works that appeals to the viewer and which she develops with a determined and strong approach.
Hellberg paints a uniform story, or 'compiles a collection of short stories' as she puts it, where the individual works are part of a broader narrative. Hellberg's core motifs are rooms, interiors and buildings in verdant natural settings. She draws inspiration from places and stories that appeal to her, such as the life of designer and architect Eileen Gray. One of the main themes of the exhibition is the famous modernist Villa E-1027 at Roquebrune-Cap-Martin in France designed by Gray in 1926–1929.
Hellberg rarely depicts people, but their marks can be seen in a half-full wine glass or flowers arranged in a vase. She is interested in the notion of aesthetic phantoms, which has become a methodological approach for her, an element of visual language. Aesthetic phantoms appear as people who are absent, enigmatic rooms, recollections of old buildings or nostalgic visions. In Hellberg's works they are given their own space, where silence, an arrested state, momentariness and a tensed mood of expectation are present.
Karoliina Hellberg graduated from the Academy of Fine Arts in 2015 and in recent years she has participated in group shows in addition to holding solo exhibitions at HAM Gallery in Helsinki (2016) and Gallery Kulma in Porvoo (2015), among other venues. Her works are in the collections of the Päivi and Paavo Lipponen Fund, the Saastamoinen Foundation, the Helsinki Art Museum, and in private collections in Finland, the United Kingdom and Belgium.
read more