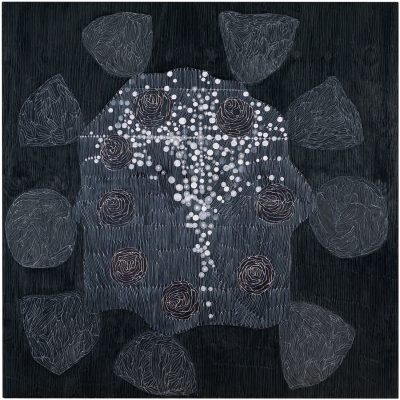 These works are at the same time carefully considered and constructed, even severe, while also extremely sensual, led by desire and pleasure. Not only to be viewed with pleasure, Marika Mäkelä's paintings can also be felt, smelled and almost heard. One can be immersed and swim or climb in them. They produce intellectual and physical pleasure.
An abiding aspect of Marika Mäkelä's work is change. Her paintings continue to sprout new themes; they develop and surprise the viewer. She may take a step back to a theme that she worked on long ago, but she never repeats her former self or her earlier paintings, but instead varies things and applies new perspectives.
Mäkelä had occasionally painted small works on panel already in the 1980s, but in the middle of the first decade of the 2000s she explicitly went on to use layered glulam as the base of her paintings. In her earlier stage she wanted construct reliefs on the surface of the paintings, but now she began to seek her way within the painted surface and colour, to chisel, gouge and create patterns. In these paintings, the solid feel of material of the varying surface patterns of wood combines with drawing and colours that occasional appear to be almost immaterially light and at other times throbbing with deep succulence.
Ilona Anhava
read more