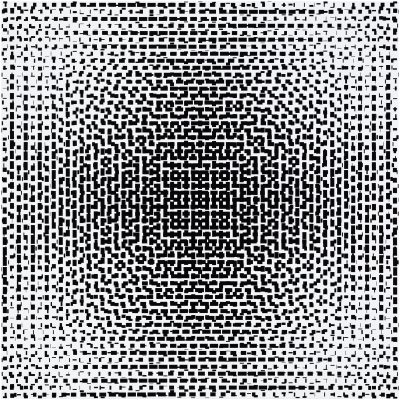 Matti Kujasalo (born in Helsinki in 1946) has worked on issues of systematic constructivist art for the past forty-five years. He has created a completely unique grammar of his own and a visual idiom following its rules that is expressive, richly nuanced and unpredictable.
Matti Kujasalo's works are pure, fresh and cool, with endless things to observe, and the viewer never tires of them. His paintings have a distinct lyrical tone and character that are rarely associated with constructivist art. They are also intellectually fascinating and challenging and visually enjoyable. The structures, logic and internal development of Matti Kujasalo's earlier works are mostly easy to read and comprehend, while his more recent paintings are structurally more complex, making viewer give up, reject "understanding" and accept the inexplicability and mystery of sensory pleasure.
In recent years, Matti Kujasalo has held solo exhibitions in Austria (Galerie Leonhard, Graz, 2013), France (Galerie Denise René, Paris, 2015) and Germany (Salon Dahlmann, Berlin, 2015). His works have also been on show in international art fairs and joint exhibitions both in Finland and abroad. In 2011, the Pori Art Museum in Finland held a large retrospective of Matti Kujasalo's work.
Matti Kujasalo is one of Finland's internationally most widely known artists. Over the years, he has had solo exhibitions in leading European galleries and museums in Italy, Austria, France, Germany, Switzerland and Hungary. He has represented Finland at the Venice Biennale and his works are in the collections of the Albertina Museum in Vienna, the Arithmeum in Bonn, the Forum Konkrete Kunst museum in Erfurt and the Joseph Albers Museum in Bottorp, among others. He is also included in public and private collections in Finland and in numerous private collections in the Nordic countries, Europe and the United States.
The present exhibition of work by Matti Kujasalo is the first to be held in Helsinki in six years. For a long while, Kujasalo concentrated on black and white expression, or work that appeared to be black and white. In recent years, colour has become an increasingly central and important aspect of his paintings.
Ilona Anhava
read more