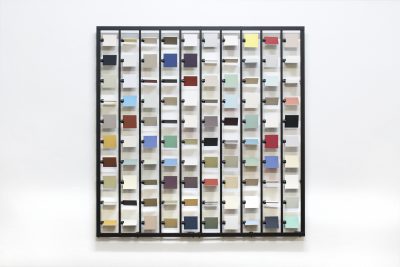 Pe Lang (b. 1974) is a Swiss-born artist professionally active in Berlin, whose works are moving constructions. He carries on the tradition of constructivist and kinetic art, doing so in a captivating and fascinating manner.
Lang's works apply and take command of the forces of nature and the phenomena of physics: magnetism, friction and electricity. His reliefs, sculptures and installations combine self-made mechanical systems with wonderfully severe structures. The results are logically surprising, elegant and fascinating works in which each part justifies itself through its relationship with the whole.
Lang began his career some twenty years ago with mechanical sound objects, performances and installations, and discography is immense. His works have been displayed in various art institutions in almost all countries of Western Europe, various Asian countries and in the United States. At present, they are on show at the Haus Konstruktiv in Zürich and Lang has been invited at the beginning of May to participate in the Ngorongoro Artist Weekend in connection with the Berlin Gallery Weekend.
Pe Lang has received a large number of important art prizes, including the highly esteemed Swiss Art Award on two occasions. Public works of art have been commissioned from him e.g. for the Villa Empain of the Boghossian Foundation in Brussels and the Exploratorium in San Francisco, and his works are in the following collections, among others: The Borusan Contemporary, Istanbul; the Museum of Science, Art and Human Perception, San Francisco; the Maxine and Stuart Frankel Foundation for Art, Michigan; and Emma, Espoo Museum of Modern Art.
Marianthi Papalexanri-Alexandri (b. 1974) is a Greek-born sound artist working in Berlin. She is known internationally for her subtle sound constructions employing few means, which she makes both herself and together with Pe Lang.
Papalexadri-Alexandri graduated as a composer from Goldsmith's College in London, continuing her studies at the Universität für Musik und darstellende Kunst in Vienna and completing a doctorate in music at the University of California, San Diego.
Her works are in the borderlines of sound art, musical composition, visual objects and performance, and they explore the factors that link these art forms. The world of sound and the visual appearance of the works are in continuous interaction, and they are uncompromisingly precise, pure and economical in their means.
Papalexadri-Alexandri has received almost twenty international prizes, including the 17th Japan Art Festival Jury Selection, the Berliner Kompositionsstipendien Composition Prize, the Dan David Prize, and the Robert Erickson Fellowship.
She has made over twenty commissioned works in various parts of Europe and has been featured at international institutions and festivals, including Kunstmuseum Stuttgart; De Bijloke, Ghent; Theatro Fondamenta Nuove, Venice; Harvard University, Boston; Kunsthalle Lucerne and Kunsthal Aarhus.
In their works, both artists combine mathematics, physics and poetry, making us wonder at what we see and hear, while reminding us that the world is full of surprising and beautiful things that are ultimately explained but never completely broken down into spoken language.
read more