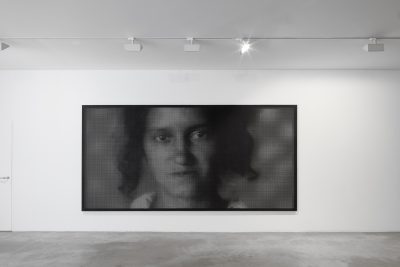 Anne-Karin Furunes (born 1961) has become known for her acrylic paintings of perforation technique based on photographs. Underlying her works are thorough studies of the themes at hand, weeks, sometimes months, spent in picture archives and the study of themes with the aid of texts and other source material. The works are political, or at least they take a stand, for chosen as the subjects are without exception the marginalized, the forgotten and the oppressed. Furunes has depicted, for example, Jews transported from Norway to Auschwitz, the Red women soldiers of the Finnish civil war, and women classified by the Swedish Institute of Racial Research.
Horror and beauty are combined in these works in an astounding way. Many of them are charming depictions of sensitive young people. Together with knowledge of their treatment and fate, the viewing experience becomes disturbing.
Anne-Karin Furunes is one of Norway's most widely known artists internationally. In recent years, she has held solo exhibitions in the Nordic countries and at the Barry Friedman Gallery in New York, the University of Wyoming, Galleria Traghetto in Venice and Conny Dietzschold Gallery in Sydney. She has also made two immense public works for metro stations, one in Oslo and the other in Stockholm. In the spring, just before her exhibition in Helsinki, she will open a solo exhibition at Museo Fortuny in Venice.
In Helsinki, Furunes will display works based on images from the Military Archives of Finland and the Carolina Rediviva Collection of the Uppsala University Library.
read more